Many thanks to the following physicians and Alliance members who attended the May 2 First Tuesdays visit to the Capitol:
Physicians - Pam Hall, MD; Jim Humphreys, MD; Leah Jacobson, MD; Alex Kenton, MD; Alisha King, MD; Ninza Sanchez, MD; Jayesh Shah, MD
Alliance members – James Deurr and Jennifer Shepherd.
At the time of this writing, there are just three weeks left in the 85th Legislative Session. There are a number of bills still in the pipeline that are of importance to medicine covering a variety of topics, including: scope of practice, Medicaid, the state budget, GME, public health, step therapy, prescription drug monitoring program, network directories, telemedicine and surprise billing.
Stay tuned to this column for continuing updates from the 85th Legislative Session.
For local discussion on these and other legislative advocacy topics, consider joining the BCMS Legislative and Socioeconomics Committee by contacting Mary Nava, BCMS chief government affairs officer and lobbyist at Mary.nava@bcms.org.

<![if !vml]>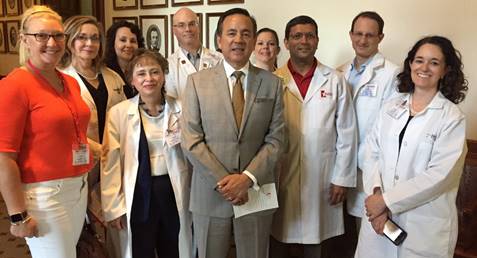 <![endif]>
Standing with Sen. Carlos Uresti (Dist 19) are l-r, back row: Pam Hall, MD; Mary Nava; Jim Humphreys, MD; Leah Jacobson, MD; Jayesh Shah, MD and Alex Kenton, MD. Front row (l-r): Jennifer Shepherd, Ninza Sanchez, MD; Uresti and Alisha King, MD.
The New BCMS Membership Phone App is Here!
This new BCMS Phone App makes available to every BCMS physician the really useful information about BCMS including leadership, calendar, staff, maps, how to contact other docs, etc. You can call, text and email leadership, staff and other physicians directly from the app.
You can download the app from your phone's app store. The app is there now and it's free. Just type in Bexar County Medical Society. You will recognize the logo when you see it. As time goes on, we will be adding features to the app and we are open to any suggestions for changes or additions you might have.
Also, when you download the app, please check your contact information on DocBookMD to make sure it's correct (once you've logged in the first time to DocBookMD, you won't have to enter log-in information again). If your information on DocBookMD is not correct, send an email to the Membership Director, Brissa Vela, (you can use the app to do this) and she will make sure your information gets updated.
We hope you enjoy this new app. It is a lot easier than navigating a website or looking something up in a book. To our physicians, we thank you for being members of the Bexar County Medical Society, and to our supporters we extend a special thanks for your contributions to the field of medicine.
<![if !vml]>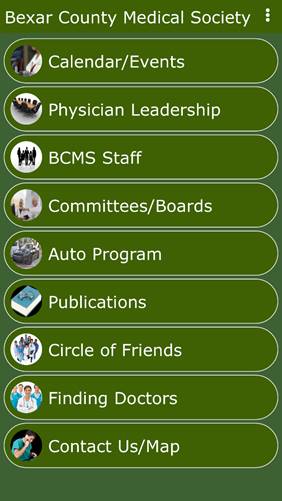 <![endif]>
Ready to take your leadership journey to the next level?
Become a TMALC scholar!
Applications are due June 1, 2017.
Are you called to lead, but worry you aren't a natural-born leader? Don't worry. You're not alone: Top leaders of America's most successful health care organizations will tell you leadership is bred, not born. Most leaders have developed their abilities by taking advantage of their top innate talents, and seeking out and learning the skills they need. The Texas Medical Association is here to guide you on your journey to great leadership.
TMA established the TMA Leadership College (TMALC) in 2010 to help ensure strong and sustainable physician leadership within organized medicine. TMALC graduates serve as thought leaders who can close the divide among clinicians and health care policymakers, and as trusted leaders within their local communities.
With more than 40 hours of classroom instruction, the TMA Leadership College was designed for active TMA members under the age of 40 or who are in the first eight years of practice.
Are you ready to take the next step?
Click here for more information.
National Stroke Awareness Month
Saturday, May 13, 8 a.m.
McAllister Park – Pavilion #1 (Al Becken)
13102 Jones Maltsberger Rd., San Antonio
Featuring: Neurologist Dr. Adam Blanchette; Interventional Radiologist Dr. Walter Zink and Dr. Jorge Alvarez
On behalf of Cardiology Clinic of San Antonio, Bexar County Medical Society and Texas Medical Association, we invite you to join us for Walk with a Doc!
It's a free, monthly event for families that includes a short presentation on reducing risk factors and a healthy lifestyle, an exhilarating walk and an opportunity to ask your favorite doctors questions about your health.
We'll have special guests each month and a variety of demonstrations and discussions about health and wellness.
This month we'll learn how to reduce your stroke risk and how to recognize the signs and symptoms of stroke to prevent death and disability.
No registration required. Dress for the weather and lace up your tennies!
Be sure to follow us:
Facebook https://www.facebook.com/CardiologyClinic/
Walk with a Doc http://walkwithadoc.org/our-locations/san-antonio-texas/
Methodist Healthcare Calendar https://sahealth.secure.ehc.com/calendar/
for upcoming walks and locations!
Walk with TIPSSW
<![if !vml]>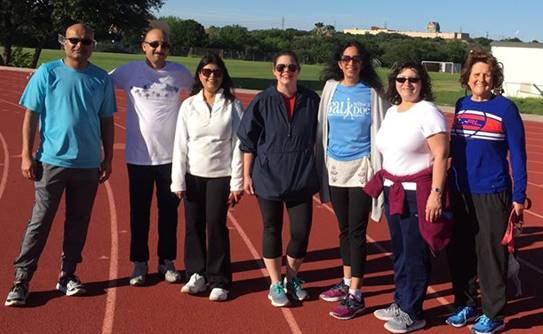 <![endif]>
On a glorious Sunday morning ( April 23) about 20 of us walked the talk at Tom C. Clark High School. Special thanks to Dr. Leah Jacobson, President BCMS, for joining us! We were happy to welcome two new wonderful lady walkers and their dog Lily ( she is camera shy from town! Thanks to our cardiologist Dr. Kiran Cheruku on call and at hand to answer their questions. Next Walk is scheduled for May 21.
– Dr. Aruna Venkatesh
<![if !vml]>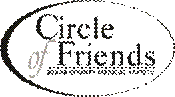 <![endif]>
Thank you to our BCMS Circle of Friends sponsors!
This information is sent on behalf of our sponsors but it is not an endorsement.
Donations from Circle of Friends sponsors help keep down the cost of dues and allow
BCMS to continue to provide quality service to its members.
The society continues its pledge to you and only will involve itself in
services and programs that benefit you, the member, and your patients.
About The Weekly Dose
The Weekly Dose is a service of the Bexar County Medical Society.
Some of the suggestions conveyed may not be applicable to your practice today,
but the goal is to offer information over time that returns value
in excess of the cost of your membership.
If you would like to recommend future topics to share with your colleagues,
please submit them to the BCMS Executive Director at steve.fitzer@bcms.org.
All rights reserved. Unauthorized use prohibited.
Copyright © 2017 Bexar County Medical Society, San Antonio, Texas.
All rights reserved.