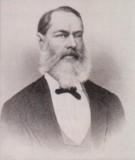 Dr. George Cupples
1st President - 1853
The Bexar County Medical Society was the first county medical society formed in the state of Texas in 1853. The Society represents 4,300+ physicians in Bexar and contiguous counties. Membership is made up of practicing physicians of all specialties, also including academic physicians, military physicians, physicians in their residency, medical students, and retired physicians.
The Bexar County Medical Society works in close cooperation with other county medical societies and with the Texas Medical Association. Often the efforts of all of these organizations are combined to their mutual best interests. A good example was the passage of medical tort reform in Texas through the passage of the constitutional amendment, proposition 12. This was a joint effort to ensure access to care for patients.
BCMS is a physicians' organization, and therefore is organized and defined by physicians' interests. The Society operates approximately ten committees open to participation by all members, that address such issues as socioeconomic, legislative, health and rehabilitation, medical schools, legal issues, censoring, mediation, communications, membership, emergency medical services, emergency management, military, nominating, peer support, public health, and women in medicine.
The Society also offers a number of services to its members which meet the needs of its members while at the same time help provide financial support to the Society. These include staffing services for all kinds of medical personnel on a temporary or permanent basis, insurance contract review services to help physicians determine whether their insurance provider is reimbursing at the maximum level possible per the contract, credentialing services to hospitals and insurance providers attesting to the background and experience of physicians anywhere in the country, automobile programs to assist physicians in finding and financing vehicles for their use, and several other physician friendly services.
BCMS is proud to have close working relationships with hospitals, the Metropolitan Health Department, practice administrators, emergency response personnel, and vendors of all kinds to the medical community. The Society's mission is to act on behalf of medicine in general, which means it will act in the best interests of physicians, patients, and the public.